Crystal Glass Nail Files with Dichroic Glass Accent
and Felt Carrying Case
Available in Small and Medium Sizes
NF-100, NF-200
$12.00 and $15.00
Crystal files crafted from tempered glass in the Czech Republic in a variety of colors. Pictures below are representative; your file will vary because no two are alike! Each file has filing surface on both sides and can be sterilized using Autoclave, UV lighting, alcohol, or hot soapy water.
Frequent use of our crystal glass files will reduce nail chipping and peeling. Just dip in water for a flawless finish!
Use on natural or artificial nails.
To purchase, choose size and color below, and click the "Buy Now" button. Quantities can be adjusted in the cart.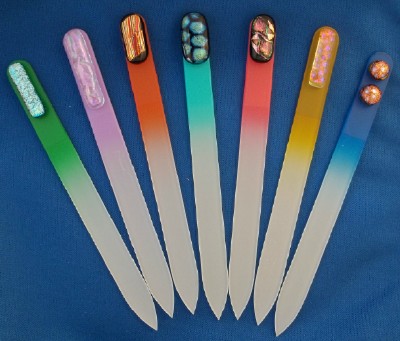 Medium Crystal Nail File (5-1/2")
perfect size for use at home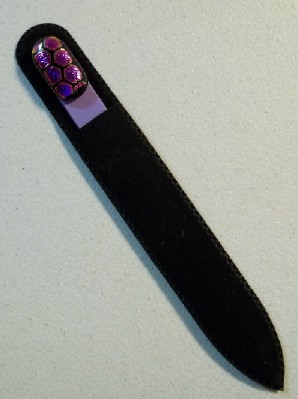 Small Crystal Glass Nail Files (3-1/2")
great for your purse, to use with children/infants: